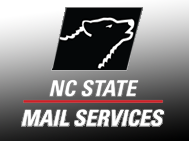 Student Mail Reminder
NC State Mail Services does not handle, sort, or deliver student/housing/dorm mail or packages. Those duties are performed by University Housing. Please contact University Housing at 919-515-2440 or at their website here.
FAQ/ Mailing Hints & Procedures
Obtain a supply of postage charge forms. Forms are provided by University Mail Services at no cost.
All information on the postage charge form must be filled in. Affix the barcode label (containing Project ID Number) to the top right side of the postage charge form.
Prepare separate bundles for different types of mail such as domestic letters, flat mail, cards, international letters, etc… Mail with affixed postage stamps should never be intermingled with mail requiring metered postage.
Interdepartmental / Campus mail should never be mixed with U.S. Mail.
Secure the bundles (postage charge form on top with rubber bands around length and width).
Improperly prepared U.S. Mail may be returned to the sending department. Departmental cooperation is necessary in order for University Mail Services to provide good service and minimize costs.
Upon request, University Mail Services will provide customers with mailing supplies (trays, plastic containers, forms, etc…).