Building Address: 2411 Dunn Avenue (show on map)
Building Abbreviation: COL
Building Number: 100
Precinct: Central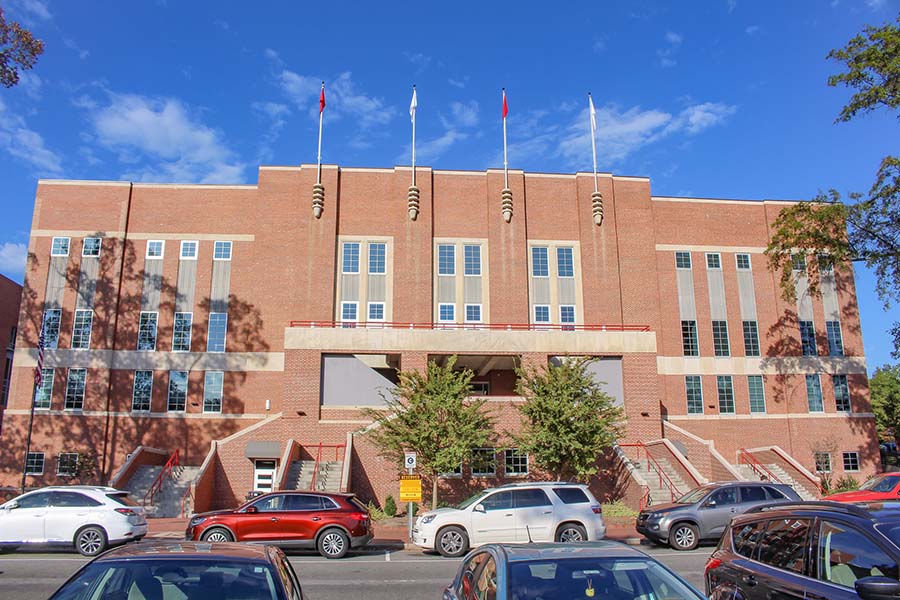 After 5,000 people from all over North Carolina were rained out of a Farmers' Week meeting held in an outdoor stadium in 1940, alumnus David Clark conceived the idea to build a coliseum . After 10 years of promoting this idea in the General Assembly, budget commissions, budget directors, and governors, Reynolds Coliseum was finally built. It is believed that Clark insisted some doors be large enough for the entrance of elephants for circus performances.
The Coliseum has been the home to the fabled Wolfpack basketball teams including two NCAA champions, and it had hosted great events – exciting tournaments, presidential addresses, musical concerts, even a public lecture by world famous architect Frank Lloyd Wright attended by 5000 people. The $2.3 million building is named for William Neal Reynolds, one of five brothers who developed the R. J. Reynolds Tobacco Company in Winston-Salem, established by the oldest brother. The building's arena floor measures 108 x 312 feet with enough seating for 14,000 people.
He and his wife donated heavily to hospitals, libraries and schools, including $340,000 to supplement the salaries of outstanding professors at State College in the School of Agriculture. His niece Mary gave $100,000 towards the coliseum's completion when she learned the Reynolds' contribution had been rather small up to that point, and another major gift later for ice-rink equipment for the building.

Campus Buildings
Campus Map