NC State is creating a new vision for the physical campus. The plan will lay out a new vision–a single, unifying master plan– to align the campus buildings and grounds with the university's new strategic plan. This is the most far-reaching physical master plan in NC State's history. In addition to the five campus precincts in Raleigh, the plan will also encompass the field labs at Lake Wheeler Road and Reedy Creek Road. For the latest information about the project click here.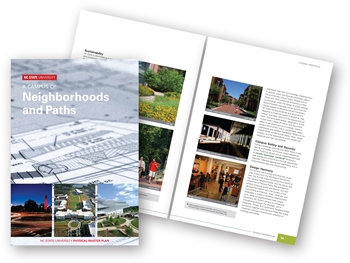 ….
NC State's physical master plan, A Campus of Neighborhoods and Paths, is an inclusive guide to purposeful design. It builds upon a history of success in leveraging growth and change to give rise to new opportunities.
This updated physical master plan complements our commitment to creating a physical environment that supports our recently crafted strategic plan, A Pathway to the Future. Both documents share a focus on the enhancement of educational innovation, infrastructure, interdisciplinary collaboration, and strategic partnerships. The end result is a setting that inspires a culture of constant improvement, learning, and applied discovery.
Master Plan Documents
2014 Master Plan – PDF