Building Address: 2 Broughton Drive (show on map)
Building Abbreviation: DHL
Building Number: 047
Precinct: North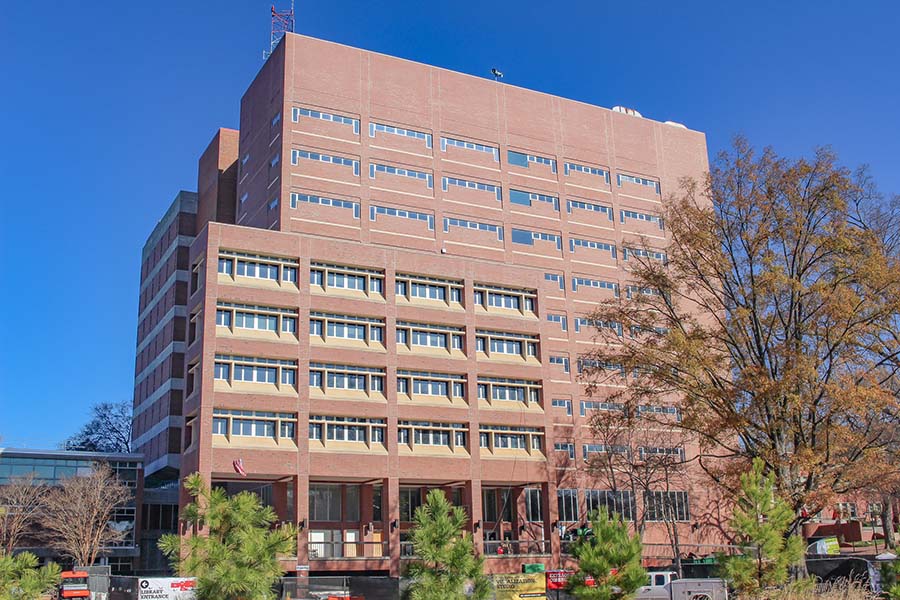 The first library at NC State was housed on the second floor of the first and only building on campus at the time, Holladay Hall. In 1926, Brooks Hall was built to serve as the official campus library. However, a larger library was needed and the D.H. Hill Jr. Library opened in 1953, while Brooks Hall became the home of the School of Design.
The library was built in four stages: the east wing first, the Erdahl-Cloyd Student Union or west wing second, the old bookstack tower third, and the new bookstack tower fourth. When the Erdahl-Cloyd wing was built in 1954, its purpose was to extend the present library and house the Student Union. However, 10 years later, the University Student Center opened, and the union was transferred to the new building. The Erdahl-Cloyd wing was used over the next five years for a number of different departmental classes and offices. Today the ground floor of the wing is referred to as The Atrium and houses dining services; the other floors are used primarily for library services and offices.
D.H. Hill Jr. Library was still in need of expansion, so an 11-story bookstack tower was built and dedicated on October 3, 1972 in conjunction with the celebration of the 83rd anniversary of the University. This bookstack tower provides space for one million volumes. In 1990, another bookstack was added, allowing space for half a million more volumes, along with new study and lounge areas. The new addition also provides entrance ramps for greater accessibility, as well as a new room on the first floor that houses equipment for the visually impaired.
The library honors Daniel Harvey Hill (1859-1924), the son of a lieutenant general in the Civil War. Hill was vice-president of NC State from 1905 to 1908, and succeeded President Winston in office in 1908. He began his career at the University as a professor of English and part-time librarian when NC State first opened, and was one of its first five faculty members. Hill taught bookkeeping and wrote several books and pamphlets, including North Carolina Troops in the Civil War, General Greene's Retreat, Agriculture for Beginners and Young People's History of North Carolina. After retirement, he devoted himself to writing The History of North Carolina in the Civil War.
Campus Buildings
Campus Map