Building Address: 2 Broughton Drive (show on map)
Building Abbreviation: EC
Building Number: 047A
Precinct: North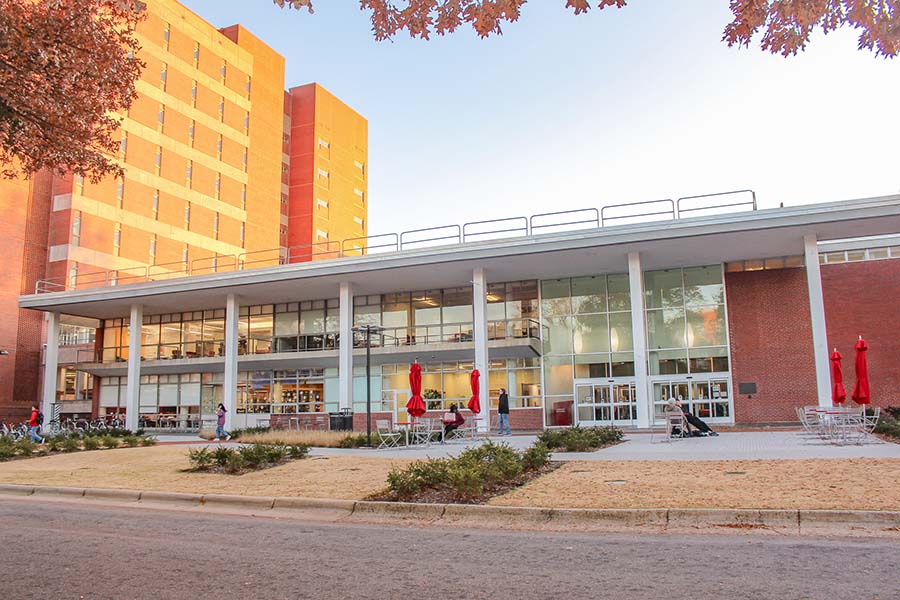 Often called the Atrium, this structure provides students with an alternative to cafeteria dining. Chick-Fil-A Express, Brickyard Pizza and Pasta, Zen Blossom, and Delirious are inside, as well as meal selections and a campus convenience store. It also contains the Erdahl-Cloyd Theater. Formerly the student union, the building is named after two former administrators in Student Affairs, Gerald Orlando Theodore Erdahl and Edward Lamar Cloyd.
Erdahl became director of the Student Union from 1949-1961 after he had developed a student union in Wisconsin that was famous among the nation's universities. He helped NC State faculty members to form their own club and originated the Friends of the College Concert Series.
E. L. Cloyd, a 1915 alumnus, served NC State for 36 years as Dean of Students. Aware of the national movement toward establishing and building student unions, Cloyd was the impetus behind the movement at State. As Dean, his interest in student involvement was evident in his work with all student organizations on campus, particularly the Interfraternity Council.
After closing for a year for renovations, the new Atrium food court opened in January 2011. A new seating area for the Atrium was completed in August 2011. In 2019, the wing became the primary entrance to the library in order to accommodate renovations in DH Hill Jr Library.
Campus Buildings
Campus Map