Building Address: 4550 Trinity Road (show on map)
Building Abbreviation: IPF
Building Number: 135J
Precinct: West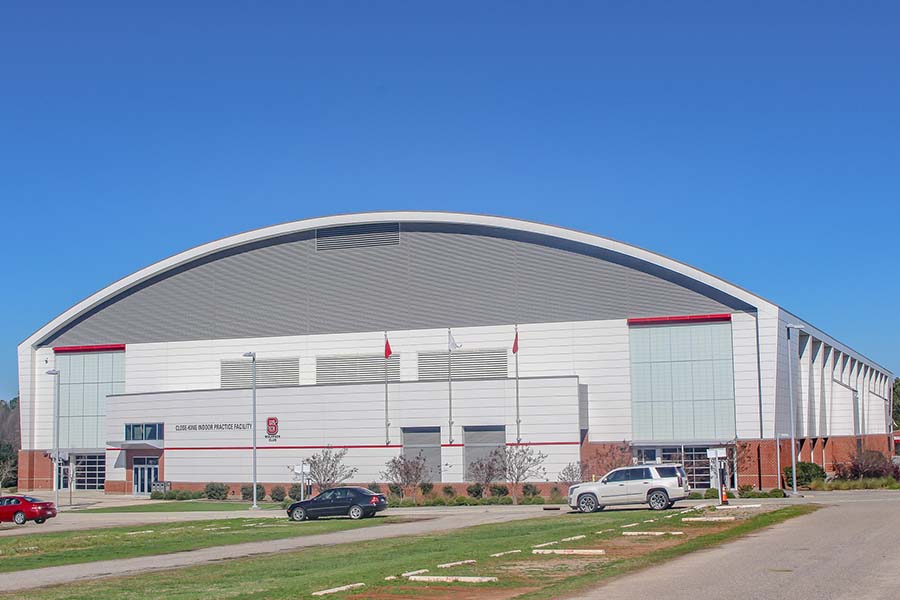 In the summer of 2015, Close-King Indoor Practice Facility opened. The football facility boasts a full, 120-yard football field with a roof height sufficient for punts and suspended goalposts.
In addition to the field, the Wolfpack's new state-of-the-art indoor practice facility boasts additional training and conditioning space beyond both endzones and four sprint lanes down the full length of the field.
Other features include an in-ground and above-ground pads for long jump, triple jump, high jump and other track events, end zone and 50-yardline viewing platforms, clerestory windows and glass roll-up doors to allow natural daylight, a complete sound system, and support areas for equipment, strength and conditioning and sports medicine.
The privately-funded $14 million facility is named in honor of NC State alums Derick S. Close ('82) and James S. King ('62), who donated the lead gifts for the project.
Campus Buildings
Campus Map