Building Address: 1070 Partners Way (show on map)
Building Abbreviation: JHL
Building Number: 783A
Precinct: Centennial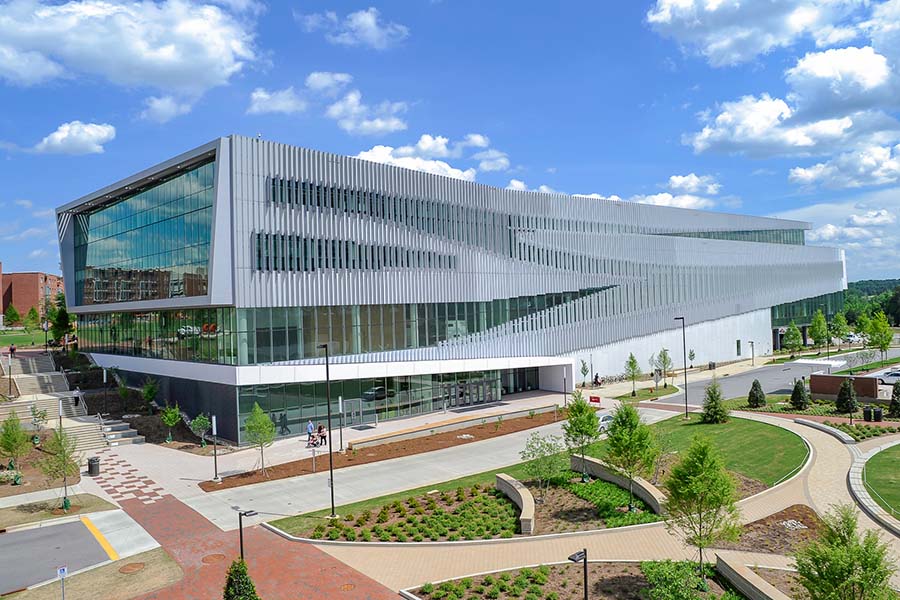 The James B. Hunt Jr. Library serves as the intellectual and social nexus for the rapidly growing population on NC State's Centennial Campus, a community of academic, corporate, and government partners. The library primarily house collections supporting the multidisciplinary research and teaching activities on Centennial Campus. The Hunt building also houses the Institute for Emerging Issues, which former North Carolina governor James B. Hunt Jr. was instrumental in establishing.
253,028 gross square feet, including space for the Institute for Emerging Issues and other university centers and institutes. Anchoring Centennial Campus' Academic Oval, the building is longer and wider than a football field, stretching roughly 460 feet in length and 180 feet at its widest point.
Designed as a "green" building at the LEED Silver level.
Lead designer, Snohetta, is one of the premier firms on the globe, responsible for the new Library of Alexandria and the National September 11 Memorial Museum Pavilion in New York. North Carolina executive architects, Pearce Brinkley Cease + Lee, have created some of the most memorable buildings in the state.
Campus Buildings
Campus Map