Building Address: 1080 Varsity Drive (show on map)
Building Abbreviation: JWT
Building Number: 158A
Precinct: Central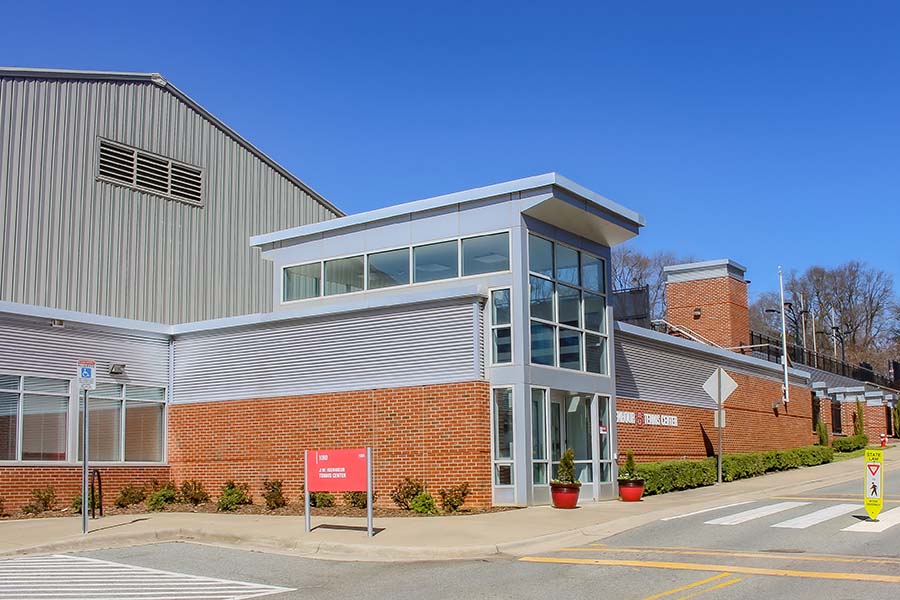 The 30,000-square-foot J.W. Isenhour Tennis Center, which officially opened in August 2004, is just one of several examples of NC State's commitment to first-rate facilities. The facility is on West Campus near Doak Field at Dail Park.
The facility was designed exclusively for use by the men's and women's tennis programs at NC State and meets all of the standards set by the Intercollegiate Tennis Association. The indoor lighting system has also been designed with the players' interest and comfort in mind, as diffuse lighting makes the ball easy to follow while minimizing glare. The main advantage for Wolfpack tennis are the four indoor courts. Having an indoor tennis facility is an instrumental part in any successful tennis program. Opening on-campus year-round facilities for practice use is very beneficial to the tennis family at NC State. In addition, the complex provides locker rooms for men and women, coaches' offices and a players lounge.
In September 2004, the United States Tennis Association (USTA) honored the newly opened facility with the organization's 2004 Outstanding Facility award. One of only four collegiate complexes to receive the honor, the home of Wolfpack tennis finds itself among some top-rate playing venues.
The facility is named in honor of J.W. Isenhour, a former head coach of NC State men's tennis from 1968-1981. Isenhour also led the women through three successful seasons. He brought NC State tennis from near obscurity into the limelight. Isenhour's men's teams compiled back-to-back Atlantic Coast Conference championships in 1978 and 1979 and advanced in the NCAA Championships in 1978.
Campus Buildings
Campus Map