Landscape Construction Services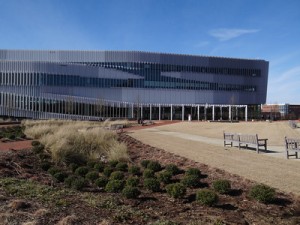 CONTACT
Landscape Construction Services
Sullivan Shops II
620 Motor Pool Street
Raleigh, NC 27695-7516
Campus Box 7516
Phone: 919-513-3960
Fax: 919-515-1386
LANDSCAPE CONSTRUCTION SERVICES (LCS) was formed in September 2005 with the goal of improving quality control of landscape installations, integrating landscape installation with ongoing maintenance, improving appearance while reducing plant losses, and providing higher quality plant material on campus. LCS is responsible for procuring landscape materials, preparing soil and plant beds, installing plant material, mulching, watering, warranty, and communicating after-installation maintenance needs. LCS often performs grading and erosion control and stabilization. In 2007 LCS began renewing stormwater devices based on a priority schedule.
SERVICES OFFERED

Landscape Installation
Stormwater Renewals
Landscape Renovations (Erosion Control Site Work and Drainage)
LCS General Construction Shop
The General Shop provides a variety of services on campus that include banner installation, brick, block, ceramic tile work, concrete and asphalt repairs, installation of wood, and chain link fences, etc.  We take pride in our skills and offer them to our clients in a courteous manner; constantly striving to ensure customer satisfaction.
To request the following services, contact your Facilities Liaison to submit a work order.
Light Machining
Structural Concrete Repair
Asphalt Paving
Bench Installation
Bike Rack Installation
Wood/Chain Link Fence Installation/Repair
Ceramic Tile Installation/Repair
Street Sign Installation and Exterior Building Signage
Masonry Installation/Repair
Monument Foundations
Concrete Curbing, Sidewalks, Steps, Aprons
Drainage Structures
Core Drilling, Concrete Cutting
Catch Basin Repairs
Banner Installation