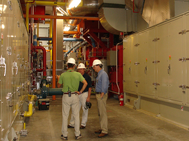 Utility Interruption Form (.doc)
Fire Alarm Disconnect Form (.doc)
Fire Alarm Disconnect Procedure
1. Purpose
To insure that the effect of utility interruptions on campus operations is minimized and that the Campus community is given sufficient notice to avoid the disruption of critical functions.
2. Intent
To clearly define coordination responsibility related to utility outages affecting major buildings or portions of buildings/systems. Minor or localized outages are not subject to the following procedures.
3. Procedure
Warning: Contractors may not interrupt any service without coordinating with Facilities.  All cutoffs and restoration of service will be performed by Facilities personnel.
3.1 When a utility interruption is required, the requestor is responsible for determining the type of interruption that needs to be performed.
3.2 The requestor is responsible for determining the area(s) building(s) that will be affected.
3.2.1 The requestor must submit a Work Request Form to the Customer Service Center. (See #5 below) The Customer Service Center will provide the requestor with the utility interruption form and refer them to the appropriate shop/zone and contact person.
3.2.2 The requestor must contact the shops/zones personnel to complete the utility interruption form. In the case of fire alarm shutdowns, approval by Fire Protection is also required. The requestor will return the utility interruption form to the Customer Service Center.
3.3 Upon receipt of the completed utility interruption form, the Customer Service Center will schedule the utility interruption by notifying all affected parties. The Customer Service Center will advise the requestor that notifications are complete.
3.4 After the Customer Service Center has completed processing the request form/utility interruption, it will be the requestor's responsibility to notify both the Customer Service Center and the shop regarding any modifications to the schedule or extent of the outage. Modifications may require rescheduling of the outage.
3.5 The following is the minimum amount of notice (working days) that should be allowed for a utility interruption:
Primary (Total Building) Power
10 working days
Distilled Water Interruption
3 working days
Secondary Power Feeders
4 working days
Steam Interruption
5 working days
Cold/Hot Water Interruption
4 working days
Gas Interruption
5 working days
A/C/Heat Interruption
4 working days
Lab Air Interruption
4 working days
*Fire Alarm Disconnect/Testing
3 working days
Sanitary/Storm Sewer
3 working days
The above time frames are focused on major service interruptions. Minor electrical/plumbing/mechanical outages for single branch circuits/supply pipes serving a limited area are not covered by this policy. It is the responsibility of the shop/contractor performing the work to notify building occupants in advance and to provide alternate sources and services as required.
3.6 All requests for utility interruptions should be submitted to the Customer Service Center prior to 3:00 p.m. The Customer Service Center reserves the right to refuse to schedule a utility interruption if the above criteria are not met.
*See Scheduling a Fire Alarm Disconnect for additional information.