Facilities Apprenticeship Program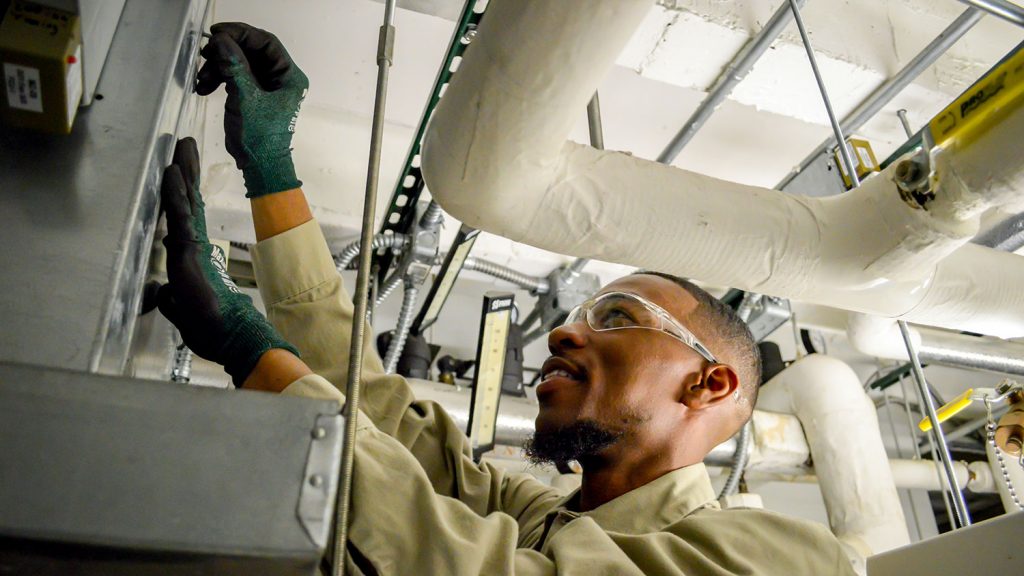 Facilities Division employees can advance their skills and career through the Apprenticeship Program. This four-year program couples classroom training at Wake Tech Community College with on-the-job experience in one of four focus areas: electrical, HVAC, mechanical or carpentry.
Earn While You Learn
Throughout the program, participants remain full-time NC State employees. NC State pays the tuition for Wake Tech classes, which include 144+ hours of classroom instruction annually. The program is ideal for Facilities Maintenance Technicians at the Contributing Level. Successful completion of the apprenticeship program boosts an employee's skill set and opportunities for professional advancement.
At least 18 years old prior to the projected hire date
Ability to meet physical requirements for the prospective trade with or without reasonable accommodations
High school diploma or equivalent prior to the projected hire date
Knowledge, skills or abilities as demonstrated through an aptitude evaluation and previous academic or work experience
Personal interview with selection committee, which assesses competencies such as initiative, problem-solving skills, teamwork and leadership
Comprehensive reference and background checks
The Facilities Division is only as strong as its workforce. By investing in employees through the apprenticeship program, the university benefits from skilled staff who can effectively support university operations.
To learn more or apply, talk to your supervisor or contact Keta Williams, Facilities Human Resources Training Coordinator, at swilli34@ncsu.edu or (919) 513-7177.