Facilities Division Safety Mishap Reporting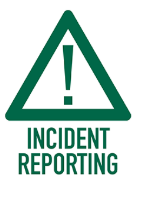 EMERGENCIES:  DIAL 911  EHS Emergency Page
URGENT FACILITY REPAIR: DIAL 515-2991
Reporting is critical to uncovering opportunities to improve our safety management system.  The ultimate goal is to prevent incident recurrence.
Employees are required to report all incidents to their supervisor – immediately – even if no injury occurred.  The supervisor is responsible for completing associated forms and sending them to Environmental Health and Safety (EHS), Workers Compensation, Facilities Human Resources (FHR) and the facilities division safety engineer.
To be clear – individual confidentiality is maintained and there is no blame associated with reporting incidents!  
INCIDENT REPORTING FORMS:
Supervisor's First Report of Incident Form – required for all incidents
Worker's Compensation Employee Statement Form – required for all incidents
Worker's Compensation Use of Leave Form – required for all incidents
Supervisor's Medical Treatment Authorization Form – required when employee sees medical provider
Injuries resulting in the need for an employee to be seen by a medical provider requires notification (24 hours) of the incident to the respective unit director (following the established 'chain-of-command').  The unit director will notify the facilities division Associate Vice Chancellor.  The intent of this initiative is to make sure that when incidents occur we are working collaboratively, at all levels of the division, to prevent recurrence.
Click on the image below to access the Facilities Division Injury Reporting Process Flow: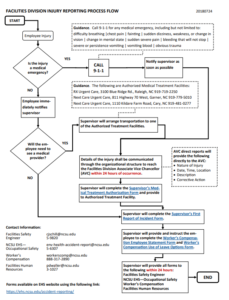 Return to Facilities Division Safety Page