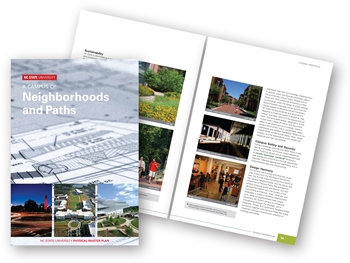 NC State's physcial master plan,
A Campus of Neighborhoods and Paths,
 is an inclusive guide to purposeful design. It builds upon a history of success in leveraging growth and change to give rise to new opportunities.
This updated physical master plan complements our commitment to creating a physical environment that supports our recently crafted strategic plan, A Pathway to the Future. Both documents share a focus on the enhancement of educational innovation, infrastructure, interdisciplinary collaboration, and strategic partnerships.  The end result is a setting that inspires a culture of constant improvement, learning, and applied discovery.